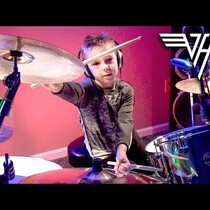 Posted April 29th, 2013 @ 4:31am
We've been celebrating Guitar Month throughout April, and as the month draws to a close, let's take a moment to focus on another essential instrument: Drums!
Meet six year old Avery Molek. He ROCKS Van Halen' "Hot For Teacher" and absolutely NAILS it!
Just think of how good this kid's going to be in another 10 years!